Have you been contemplating whether to invest in a new coffee maker? If so, let us introduce you to the K475 Keurig, an impressive option on the market. This advanced coffee machine offers a range of specifications and features that are bound to enhance your coffee brewing experience. Join us as we access the world of the K475 Keurig and discover why it has gained such popularity among coffee enthusiasts.
The Overview of K475 Keurig
The K475 Keurig Coffee Maker is highly regarded as one of the best coffee makers currently available. Its ease of installation is a standout feature, with a user-friendly manual guiding you through the process effortlessly. The touchscreen interface adds to its convenience, allowing for seamless operation. Moreover, its visually appealing design complements any home décor, making it an attractive addition to your kitchen. The large water reservoir, boasting a capacity of 70 ounces, can brew over eight cups of coffee, saving you time and effort.
Additionally, the packaging includes essential accessories like K-Cup pods, a water filter handle, and two water filters, ensuring the best brewing quality and taste. The versatility of the Keurig K475 is another highlight, as it can be used to brew not only coffee but also hot cocoa or other beverages for those who may not be avid coffee drinkers. Overall, this coffee maker stands out for its flawless brewing process and exceptional beverage taste, making it a favored choice among consumers.
K475 Keurig Review Detail
Specs
Dimensions: 10.43 inches in length, 13.63 inches in width, and 13.45 inches in height.

Weight: 14.1 pounds.

Equipped with a 2.4-inch LCD screen.

Compatible with K-Cup Pod, K-Mug Pod, and K-Carafe Pod.

Features the Keurig 2.0 My K-Cup Reusable Coffee Filter.

Offers multiple brew sizes: 4, 6, 8, 10, and 12 ounces for K-Pod; 12, 14, and 16 ounces for K-Mug; 22, 26, and 30 ounces for K-Carafe.

Comes with a 70-ounce removable water reservoir.

Allows for strength and temperature control, with five temperature settings available.

Includes cord storage and brewer maintenance alerts.

Features an auto on/off function and a digital clock.

Offers separate settings for hot beverages such as mocha, cocoa, and chai.

Programmable for convenience.

Includes a K-Carafe Auto Brew option.

Equipped with a high altitude setting.

Comes with a 6-count K-Cup pod variety pack, a water filter handle, and two water filters.
Features
1. Brewing options
The Keurig K475 offers a variety of brewing options, allowing you to make a wide range of beverages. It is compatible with K-Cup pods, which offer a variety of coffee, tea, hot cocoa, and specialty beverage options. It also has a strength control feature, allowing you to adjust the flavor intensity of the brewed beverage.
2. Large water reservoir
The K475 has a large water reservoir with a capacity of 70 ounces. This eliminates the need for frequent refilling and allows you to brew multiple cups of coffee without interruption.
3. Customizable settings
This Keurig model offers customizable settings to personalize your brewing experience. It has a temperature control feature, allowing you to choose between five temperature settings to ensure your coffee is brewed at your preferred temperature. Additionally, it has an adjustable brew size feature, enabling you to select between 4, 6, 8, 10, and 12-ounce cup sizes.
4. Programmable features
The K475 has programmable features that allow you to schedule automatic brewing. You can set the machine to turn on and start brewing at a specific time, ensuring you wake up to a freshly brewed cup of coffee. It also has an auto-off feature, which automatically turns off the machine after a certain period of inactivity.
5. User-friendly interface
This Keurig model features a large color touchscreen display, making it easy to navigate and select your desired settings. The display provides clear instructions and feedback during the brewing process, making it user-friendly and convenient to use.
Pros and Cons
Pros:
User-friendly operation

Spacious water reservoir

Convenient brewing process

Multiple temperature options

Fast heating capability

Large and responsive touchscreen
Cons:
Occupies countertop space

The power cord length is short
Performance And Taste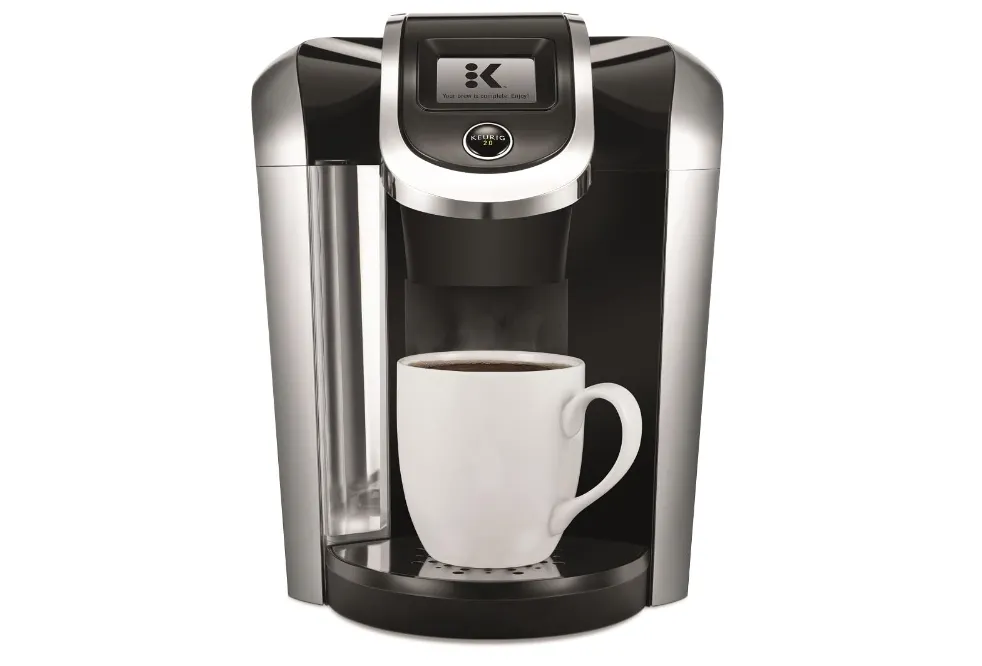 The performance and output of a coffee maker are crucial factors in determining its quality. The Keurig K475 is an incredibly user-friendly machine, providing an effortless way to brew coffee at home. Its large screen display makes it easy to use, and users have reported satisfaction with its consistent beverage quality over many years of use. Compared to other products in its category, the K475 produces hot and perfectly brewed coffee.
Additionally, the K475 is equipped with a low-noise motor, making it operate smoothly without any odd sounds, unlike the heavy-duty motor used in the K145 OfficePRO, which is designed for frequent and rapid use in office settings. The K475 is best suited for home use, and its parts are tailored accordingly. However, if you are a heavy coffee drinker who consumes 15-20 cups per day, we recommend opting for the sturdier Keurig K145, which is better equipped to handle heavy use.
Price
The price of the Keurig K475 coffee maker typically ranges from $300 to $449. However, it's important to keep in mind that prices may vary depending on where you purchase it and any ongoing promotions or discounts that may be available. It's a good idea to compare prices from different sellers to ensure you're getting the best deal possible. And You can check the latest price from here.
Alternatives
If you're looking for alternatives within the Keurig brand, here are two options that you might consider:
Keurig K-Elite: The Keurig K-Elite offers a premium brewing experience with its strong brew setting, allowing you to enjoy a more intense cup of coffee. It features a large 75-ounce water reservoir and a programmable timer for added convenience. The K-Elite also has a hot water on-demand feature, perfect for making tea or other hot beverages.
Keurig K-Duo: The Keurig K-Duo is a versatile coffee maker that allows you to brew a single cup using K-Cups or a whole carafe of coffee using traditional coffee grounds. It has a 60-ounce water reservoir and comes with a thermal carafe to keep your coffee hot for longer periods. The K-Duo also includes a programmable timer and an auto-brew feature.
Is the Keurig K475 for you?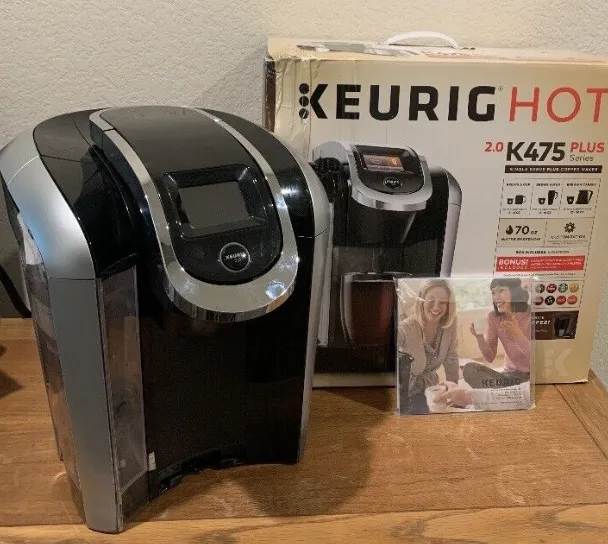 Whether the Keurig K475 is right for you depends on your individual needs and preferences for a coffee maker. If you are looking for a machine that can brew single-serve cups quickly and easily, the K475 is an excellent choice. With its large 70-ounce water reservoir and multiple temperature settings, you can customize your coffee to your liking. The K475 also offers strength control, allowing you to adjust the intensity of your brew.
However, if you prefer a more traditional brewing method and enjoy brewing whole pots of coffee, the Keurig K475 may not be the best option. Additionally, if you are looking for a more affordable coffee maker, there are other options available on the market. Ultimately, whether the Keurig K475 is the right choice for you depends on your specific needs and preferences. It's important to consider factors such as price, features, and brewing method when making a purchase decision.
faqs
What is the life expectancy of a Keurig machine?
On average, a well-maintained Keurig machine can last anywhere from 3 to 5 years.
Is Keurig 2.0 discontinued?
Yes, the Keurig 2.0 series has been discontinued.
What is the best-performing Keurig?
Determining the best-performing Keurig is subjective and can depend on individual preferences. However, some popular and highly rated Keurig models known for their performance include the Keurig K-Elite and Keurig K-Select.
How do I know my Keurig model?
To identify your Keurig model, you can usually find the model number on the bottom or side of the machine. Additionally, you can refer to the original packaging or user manual that came with the Keurig machine.
conclusion
The K475 Keurig is undoubtedly a remarkable coffee maker that caters to the needs of every coffee lover. Its impressive specifications, including a large water reservoir and multiple brewing options, ensure convenience and versatility in every cup of coffee. With its sleek design, user-friendly interface, and high-quality performance, the K475 Keurig stands out as a top-notch choice for anyone seeking an exceptional coffee brewing experience.