In the bustling world of coffee enthusiasts, the Keurig 350 has emerged as a formidable contender, offering a perfect blend of convenience and quality. As coffee lovers continue to seek out the latest innovations in home brewing technology, the Keurig 350 has garnered attention for its impressive array of features and user-friendly design. Let's take a closer look at this coffee maker to see what sets it apart from the competition.
The Overview of Keurig 350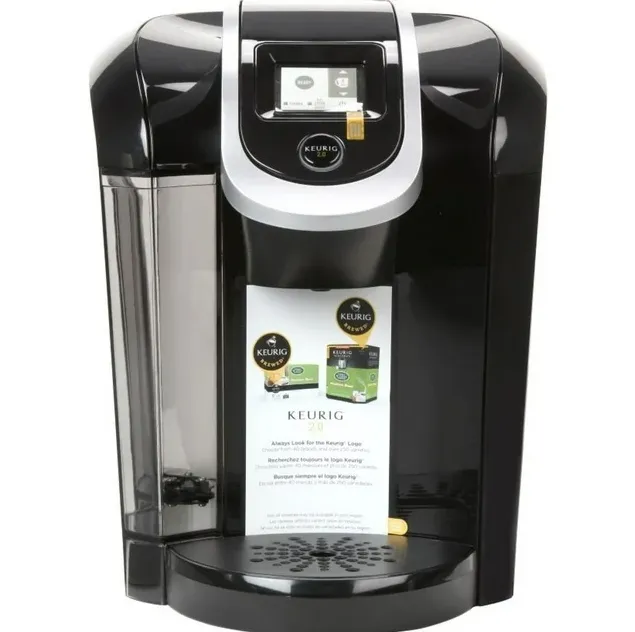 The Keurig 350 is a next-generation K-Cup single-serve system that goes beyond traditional brewing capabilities by offering the convenience of brewing a carafe. Equipped with a sizable 60 oz. water reservoir and a user-friendly grayscale touch display, this coffee maker ensures a hassle-free brewing experience.
With its brewer maintenance alerts, strength control, and energy-saving mode, the Keurig 350 provides customization options and efficient operation. The illuminated water reservoir adds a touch of elegance to its design. Additionally, the package includes a 4-cup starter carafe, 4 K-Carafe packs, 6 K-Cup packs, and a water filter starter kit with one filter, making it a comprehensive and value-packed choice for coffee enthusiasts.
Keurig 350 Review Detail
Specs
The Keurig 350 Specs:
Product Line/System: Keurig 2.0 Plus

K-Cup Compatibility: Keurig 2.0 K-Cup pods, K-Mug, and K-Carafe pods, ground coffee with the Keurig 2.0 My K-Cup.

Brew Sizes: 4 oz, 6 oz, 8 oz, 10 oz, 12 oz, 14 oz, 16 oz, 22 oz, 26 oz, 30 oz

Water Reservoir: 60 oz

Water Filter: Included

Display: 2.4″ black and white LCD touch display

Temp Control: No

Strength Control: Yes

Dimensions: 10.4″W x 13.4″D x 13.6″H

Weight: 8.5 lbs
Features
1) Brightly Illuminated Easy-Fill Water Reservoir
The Keurig K350 features a water reservoir that is brightly illuminated, making it easy to replace water in the brewing system, especially in dimly lit environments. This convenient feature prevents spills and messes, adding convenience to your morning coffee preparation.
2) Keurig Brewing Technology
Equipped with Keurig 2.0 Brewing Technology, the Keurig K350 ensures ease of use, even for those who have no prior experience with brewing machines. This advanced technology reads the barcode on the lid of each K-Cup used, ensuring precise and accurate brewing with every cup. It eliminates concerns about overbrewing and provides reassurance during the brewing process.
3) Customizable Settings
The Keurig K350 offers customizable settings, allowing users to input their preferred brewing parameters using intuitive digital controls. Whether you're an experienced brewer or have specific taste preferences, this feature enables personalized brewing tailored to your individual tastes.
4) 4-Cup Carafe
With the capacity to brew up to 4 cups of beverage at once, the Keurig K350 includes a durable 4-cup carafe that effectively retains heat. With just a simple button press, you can effortlessly brew a larger quantity of coffee, providing the convenience you would expect from a single-cup brewing system.
5) Compatibility with Over 400 Beverage Types
Enjoy a vast selection of over 400 beverage types, including coffee, tea, iced beverages, and specialty drinks with the Keurig K350. Its K-Cup compatibility ensures access to a wide range of options, featuring coffee from more than 60 different well-known brands. Indulge in a diverse array of flavors and choices to suit your preferences.
Pros and Cons
Pros:
Brews both single-serve coffee and carafes up to 30 oz.

Wide range of sizes from 4 oz cup to 30 oz carafe.

60 oz water reservoir is easy to access.

Strong Brew option included.

Comes with a carafe, K-Cup/K-Carafe variety pack, and water filter kit.
Cons:
Discontinued model.

Pod-scanning system to lock out unlicensed K-Cup pods.

Only compatible with K-Cup pods, limiting your options.

Doesn't come with reusable Keurig 2.0 My K-Cup.
Performance And Taste
The Keurig K350 offers a reliable and convenient coffee brewing experience, with its ability to brew both single-serve coffee and carafes up to 30 oz. The machine's wide range of brewing sizes, from a 4 oz cup to a 30 oz carafe, allows for customization and flexibility in serving size.
The inclusion of a Strong Brew option intensifies the flavor, catering to those who prefer a bolder taste. The K350 also features a side-mounting 60 oz water reservoir, which is an improvement over previous models, making it easier to access and reducing the frequency of refills. The taste of the coffee brewed by the K350 is consistent, with precise extraction and optimal brewing temperature.
Price
The Keurig K350 is priced at $199, which is a mid-range price point for coffee brewers. While it may be more expensive than some entry-level models, the K350 offers added features such as the ability to brew both single-serve and carafes, a larger 60 oz water reservoir, and a Strong Brew option. If you are interested in it, you can visit here to learn more about K350.
Alternatives
Nespresso VertuoPlus: The Nespresso VertuoPlus is a versatile coffee maker that uses a unique Centrifusion technology to brew both espresso and regular coffee. It offers a wide variety of coffee blends and flavors, and the machine automatically recognizes the type of capsule being used, adjusting the brewing parameters accordingly. It has a large water tank and the ability to brew five different cup sizes, providing flexibility for different serving preferences.
Ninja Coffee Bar System: The Ninja Coffee Bar System is a full-service coffee maker that offers various brewing options, including single-serve, carafe, and specialty brews. It comes with a built-in frother for creating creamy lattes and cappuccinos. With customizable brew strength and size settings, as well as a thermal carafe to keep coffee hot for hours, it provides a versatile and convenient brewing experience.
Breville BES870XL Barista Express: For those seeking a more hands-on coffee brewing experience, the Breville BES870XL Barista Express is an excellent choice. This semi-automatic espresso machine features a built-in conical burr grinder, allowing you to grind fresh coffee beans before extraction. It offers precise control over grind size, dose, and extraction time, enabling you to achieve barista-quality espresso at home.
Is the Keurig 350 for you?
Whether or not the Keurig K350 is suitable for you depends on your preferences and needs. If you're looking for a versatile coffee brewer that can handle both single-serve and carafe brewing, the K350 may be a good fit. The added features such as the Strong Brew option and 60 oz water reservoir make it convenient for those who drink multiple cups of coffee or entertain guests frequently.
However, if you prefer using your own coffee grounds or want a more budget-friendly option, the K350's limitation to Keurig-approved pods and higher price points may not be the best fit. Ultimately, it's important to consider your priorities in a coffee maker and weigh the pros and cons of the K350 before making a decision.
faqS
Which Keurig has the hottest temperature?
What is the ideal temp for a Keurig?
How long do Keurigs usually last?
What are the 3 sizes on a Keurig?
3 sizes: 6, 8, and 10 oz.
Conclusion
With its sleek design, customizable settings, and impressive brewing capabilities, the Keurig 350 is a standout option for anyone seeking a reliable and efficient coffee brewing experience. Its range of features, including multiple cup sizes, strength control, and programmable settings, make it a versatile addition to any kitchen. If you're in the market for a coffee maker that delivers both convenience and quality, the Keurig 350 certainly deserves a spot at the top of your list.