Keurig has been a leading brand in the world of coffee makers for several years. They have introduced several models with unique features that cater to different customers' needs. If you're in the market for a new Keurig coffee maker, you might be wondering about the difference between Keurig K425 Vs K525 models.
Keurig K425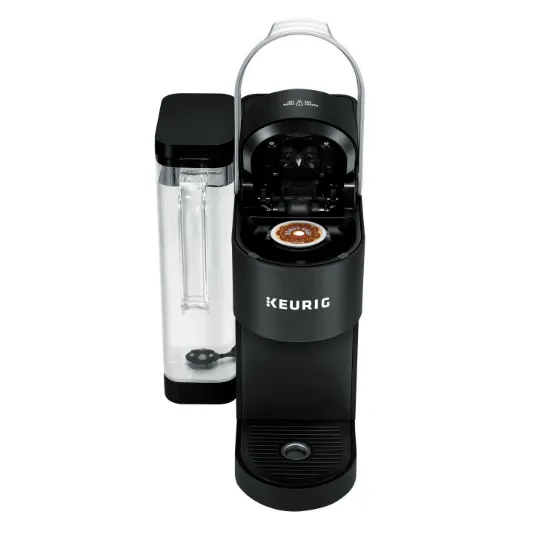 The Keurig K425 is an early model from the Keurig 2.0 series, which revolutionized the usability and functionality of single-serving coffee makers. In addition to brewing coffee, this machine allows you to prepare a wide variety of other hot beverages such as tea. It is equipped with a generous 70oz reservoir, making it suitable for household or small office use. However, if you are a professional barista seeking a machine for serving customers, you may find the reservoir size insufficient for your needs.
One of the key advantages of the Keurig K425 is its ease of use. The machine features simple programmable controls that allow you to brew your desired beverage quickly and easily. All you need to do is insert the appropriate K-cup size and select your preferred strength. Moreover, the K425 offers several additional features that enhance its functionality, including a touch screen, temperature selection panel, removable drip tray, and serving size selector. These extras provide added convenience and customization options for an enhanced brewing experience.
Keurig K525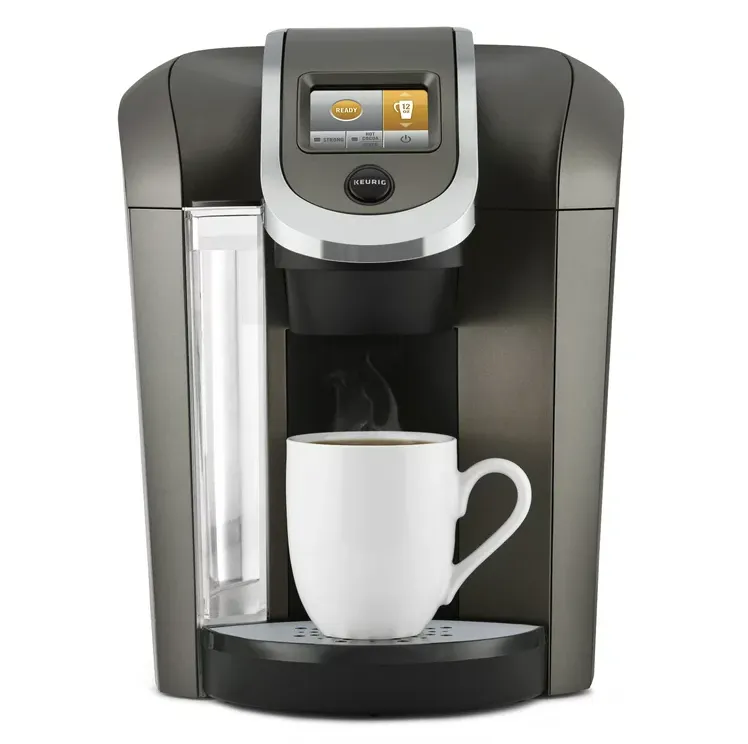 The Keurig K525 is the upgraded successor to the earlier model, K425, both belonging to the Keurig 2.0 series. With several improvements in capacity and performance, the K525 offers enhanced features compared to its sibling model.
One notable upgrade in the K525 is its larger reservoir, which holds 80oz of water. This capacity exceeds the needs of even professional baristas running coffee shops. The reservoir is conveniently filled through a flip-type lid, making it easy to refill as needed.
The K525 offers five different brewing options and various K-cup sizes, including K-cup, K-mug, and K-carafe pot. In terms of customization, the machine features a 2.8-inch control panel that allows you to select the desired temperature, strength, and cup size for your beverage. Additionally, the K525 boasts efficiency features such as a built-in on-off switch that automatically turns off the machine after a certain period of inactivity, as well as an energy-saving mode that reduces its functionalities.
Keurig K425 vs K525: Comparion Detail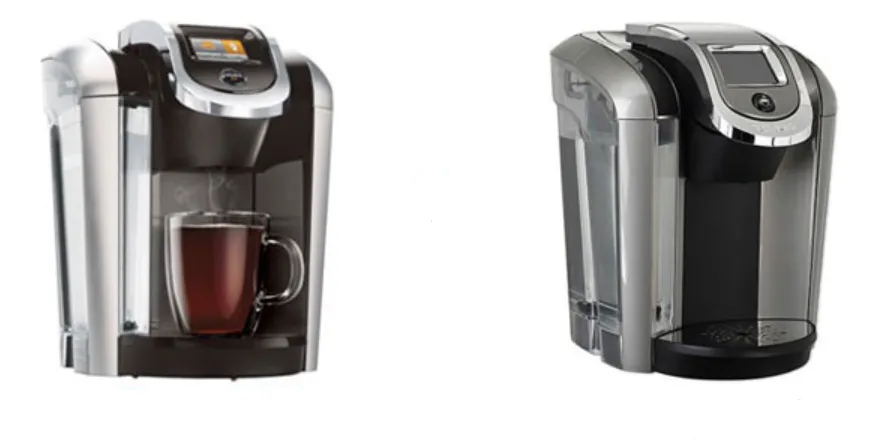 Design and specifications
The Keurig K425 and K525 are coffee-making machines that belong to the Keurig 2.0 lineup. Both models are designed to brew various pod varieties, including K-Carafes, K-Mugs, and basic K-Cups. This versatility allows users to choose from around 11 different brew sizes, ensuring that you can pour the exact amount of coffee that you or your guests desire. If you prefer brewing larger quantities, a separate Keurig K-Carafe can be purchased, enabling you to brew up to four cups at once.
In terms of design, both the K425 and K525 feature the sleek and modern signature appearance characteristic of Keurig coffee machine models. However, the K525 offers two additional customizable settings that the K425 does not have: "night light" and wallpaper options. These features allow for more versatility in terms of looks and may appeal to those who appreciate both coffee brewing and interior design. Both machines are available in platinum, red, or white, making them suitable for various kitchen styles. Additionally, both models have a compact size that easily fits on most countertops, ensuring convenience and ease of use.
Features
Comparison – Keurig K425 vs K525:
 
Keurig K425 Plus
Keurig K525
Features
 
 

Serving

Single-serve

Single-serve

Cup size option

K cup sizes- 4, 6, 8, and 10 oz,




K mug sizes- 12, 14,16 and 18 oz,




K carafe sizes- 22, 26, and 30 oz.

K cup sizes- 4, 6, 8, and 10 oz,




K mug sizes- 12, 14,16 and 18 oz,




K carafe sizes- 22, 26, and 30 oz.

Display Screen

Color touch screen – 2.4 inches

XL color touch screen – 2.8 inches

Strength Control

Present

Present

Programmable

Yes

Yes

Auto-off

Yes

Yes

Color Touch screen

Present

Present

LCD screen Signals

Yes. A digital clock is present to tell the brewing time as well.

Yes. A digital clock is present to tell the brewing time as well.
Reservoir Size
When comparing the Keurig K425 and K525, one important factor to consider is the size of their reservoirs. The K425 has a reservoir size of 70oz, making it suitable for household use where coffee consumption may be moderate. On the other hand, the K525 boasts a larger reservoir with a capacity of 80oz, making it the winner in terms of reservoir size. This makes the K525 a more suitable option for baristas or those looking to serve a larger number of coffee lovers, such as in business houses or corporate offices.
However, it's essential to consider the specific needs and usage patterns when choosing between these two models. If you're looking for a coffee maker for personal or household use where coffee consumption is lower, the K425 with its 70oz reservoir can still be a suitable and budget-friendly option. It provides ample capacity for occasional coffee brewing.
K Cup Size
Since you won't want to drink the same shot of coffee every time, the K cup size is crucial. In that regard, you'll smile at both of these models. There are various K cup size options available for the Keurig 525. It brews on K cups, K mugs, and K carafe pods, for instance. In that regard, the Keurig 425 is also quite varied, though not to the same extent as its more established replacement.
Pods
Both models only accept Keurig brand pods, which can be seen as a disadvantage for those who prefer other brands or want more variety in their coffee choices. Attempting to use non-Keurig pods will result in the machine rejecting them.
However, there are workarounds to overcome this limitation. One method is to purchase a reusable pod that can be filled with your own coffee grounds, allowing you to brew your preferred blend without being restricted to Keurig's selection. Another option is to modify non-Keurig pods by cutting and taping the top of a Keurig pod onto a non-Keurig pod, essentially creating a new pod that can be used in the machine.
Flavor
When it comes to the flavor of your coffee, you can trust Keurig to deliver exceptional results with both the K425 and K525 models. As a market leader in the coffee industry, Keurig ensures that every cup brewed with their machines is of top-notch quality. The K425 and K525 offer temperature and strength control options, enabling you to customize your coffee exactly according to your preferences.
Whether you prefer a bold and strong brew or a milder and smoother taste, these machines have got you covered. Moreover, if you have your favorite coffee grounds that you want to use, investing in a reusable filter allows you to enjoy your preferred blend with the convenience of a Keurig machine.
Control Panel
Both of these devices include several user-controllable features. For instance, in both of them, you may adjust the cup size and temperature. The control panel display is angled upwards to ensure that you can see what you are picking up clearly.
However, these two modes differ in two very obvious ways.
The display size is one. The 425 has a 2.4-inch color touch screen, which is respectable for the manufacturer's size. The 525, on the other hand, has a 2.8-inch touch-enabled screen that is larger.
The ability to regulate temperature is the second advantage. You don't have as much control over the brewing temperature with the older model. But the older model offers you that choice.
Easy of use and convenience
The Keurig K425 and K525 are both designed to be easy to use, with user-friendly color touch displays that allow for intuitive navigation. The K525 boasts a larger 2.8-inch display compared to the K425's 2.4-inch display, making it easier to read and access your preferred settings. Both models have removable water reservoirs, simplifying the cleaning process and allowing you to refill them without having to move the entire machine to the sink.
Another convenient feature of both machines is their programmability, which allows you to set a specific brewing time so that you can wake up to the aroma of freshly brewed coffee. Additionally, both models have removable drip trays, allowing you to use coffee mugs of varying sizes. The K525 has an impressive 80-ounce water reservoir, the largest in the industry, enabling you to brew up to eight cups of coffee back-to-back. The K425 has a slightly smaller 70-ounce reservoir, still capable of producing around seven cups of coffee.
Size and Footprint
From several angles, the size and footprint of a coffee maker machine are crucial considerations. First and foremost, it matters how much room it occupies in your kitchen. Secondly, knowing when to clean or descale.
The Keurig 425 model has an acceptable footprint measuring 15.7 x 15.2 x 12.6 inches. The model weighs five pounds in total. However, the 525 is larger, measuring 13.6 x 13.4 x 10.4 inches, and weighs 14.6 pounds more. Although 14.6 pounds may seem like a lot, this won't be an issue unless you need to pick it up or decal it. In terms of weight and footprint, the Keurig 425 is the best model overall.
Water Kit
Most consumers tend to ignore this in the midst of all those features and specs. But before the water is put into the reservoir, the water kit does the task of purifying it. Thus, before entering the machine itself, the large- and macro-sized particles are filtered out. If these macroparticles are not there, they will seriously harm the reservoir.
The Keurig 525 comes included with this water kit. It's not something you will receive in a box when you purchase 425. However, you can purchase one individually if you so choose.
Price-Quality Ratio
The price-quality ratio is, of course, the final but equally crucial element to take into account. This is a major problem, particularly if you don't have endless funds.
As you can see, the 525 has several enhancements and cutting-edge technologies. Thus, the price increase has very clear causes. Conversely, the 425 is a reasonably priced device with a respectable level of functionality. If you have a tight budget, this could be a good choice for you.
Keurig K425 vs K525: Which one is right for you?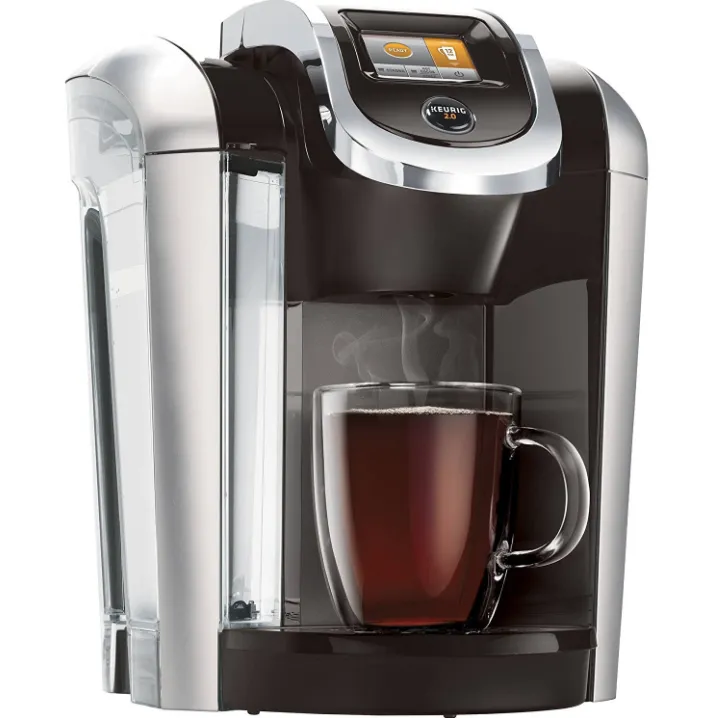 The Keurig K425 vs K525 are both popular brewing systems, but they have some key differences. The K425 is a compact and versatile machine that can brew multiple cup sizes, allowing you to enjoy a variety of beverages. It features a 70-ounce water reservoir and a strength control setting, so you can adjust the intensity of your coffee.
On the other hand, the K525 is a more advanced model with a larger 80-ounce water reservoir and customizable temperature controls. It also has a sleeker design and a larger touchscreen display that makes it easier to navigate through the brewing options. Overall, the choice between the two depends on your specific needs and preferences.
FAQs
Are all Keurig machines the same?
No, all Keurig machines are not the same. They have different features, sizes, and brewing capabilities.
What is the best brew temp for Keurig?
The ideal brew temperature for Keurig coffee makers is between 195°F and 205°F. This temperature range ensures optimal extraction of flavors and aromas from the coffee grounds, resulting in a delicious cup of coffee.
CONCLUSION
Both the Keurig K425 vs K525 are excellent coffee makers that offer a range of features to make your coffee experience better. When choosing between the two, consider your specific needs, such as the size of your family or the types of beverages you enjoy. Ultimately, both models will provide you with a delicious cup of coffee every time.